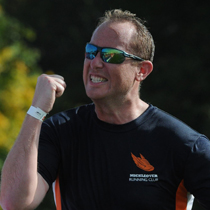 Robert Humber
Club Chair
Hello, I'm Rob and Chair of Mickleover Running Club. I was elected in February following the awful running year of 2020 that we would all rather forget. I'm a hugely passionate person and find huge amounts of joy supporting and motivating others to run.
I started running in 2014 when I decided I wanted to run the Prague marathon, my first race was the Derby 10k and I remember being so nervous at the start line. Fast forward 7 years and 3 marathons later and I couldn't imagine running not being part of my life, I love everything from Marathons to Park Runs and Junior park runs with my little boy.
I joined Mickleover Running Club in June 2017, it's a great club that I'm hugely proud to be a part of. We have a great kit, motivating run leaders, runners of all abilities, support at every local event and mostly importantly lifelong friends found through running.